Image Credits

- Diritti sulle Immagini

The organizations, institutions and companies cited here are the sole owners of any copyright on the pictures, that I digitized by flatbed scanner.
If you decide to re-publish these pictures, please include a link to this page or include the whole "Image Credits" section appearing here.

Le organizzazioni, istituzioni e aziende citate qui sono i soli proprietari di tutti i diritti sulle immagini, che ho digitalizzato con uno scanner piano.
Se decidete di pubblicare nuovamente queste immagini, includete un link a questa pagina o includete l'intera sezione "Crediti immagine" che appare qui.
---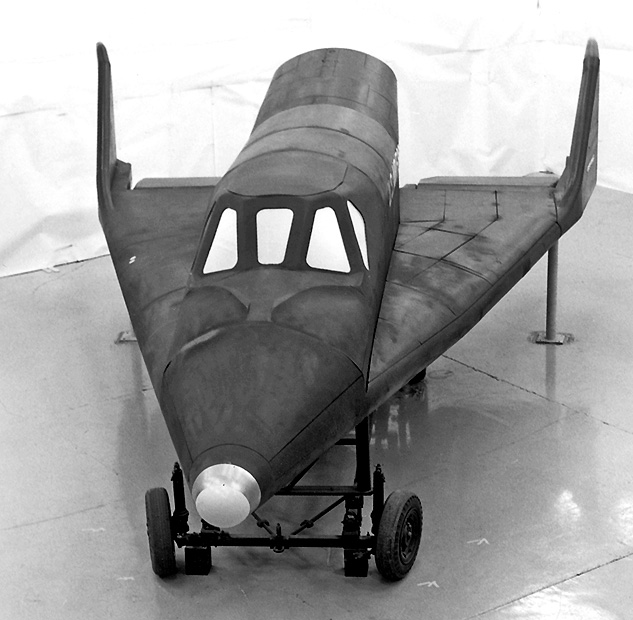 Click on any preview to enlarge the picture. Fate click su qualsiasi anteprima per ingrandire l'immagine.
---
The Boeing Company News Release S-6826 - «This is Dyna-Soar»
Although it was canceled in 1963, the X-20 «Dyna-Soar» program was brought forward with great energy and consistent funding - it paved the way for all the subsequent orbital/suborbital lifting bodies and ultimately for the Space Shuttle. Even though it is often cited in books as well as in websites (sometimes misspelled as "86826"), this news release by The Boeing Company form 1963 cannot be found elsewhere in full text on the Internet. It's my pleasure to publish on my web pages one of the most exhaustive and well-written accounts of the program. I originally received it in the early 1980's from the Boeing History Office along with the picture you see above. The two artist's impressions in the AAFC collection were obtained from the National Archives in the same years.
Anche se fu cancellato nel 1963, il programma X-20 «Dyna-Soar» fu portato avanti con grande energia e finanziamenti consistenti - ha spianato la strada a tutti i successivi lifting body orbitali/suborbitali e, in definitiva, allo Space Shuttle. Anche se viene spesso citato nei libri e nei siti Web (talvolta erroneamente come "86826"), questo comunicato stampa della Boeing Company del 1963 non può essere trovato altrove su Internet come testo completo. È per me un piacere pubblicare sulle mie pagine Web uno dei resoconti più esaurienti e ben scritti del programma. L'ho ricevuto all'inizio degli anni '80 dall'ufficio storico della Boeing, insieme all'immagine visibile sopra. Le due "artist's impression" nella collezione AAFC sono state ottenute dagli Archivi Nazionali negli stessi anni.
News Release S-6826 - «This is Dyna-Soar» - Text-indexed scan of the original
News Release S-6826 - «This is Dyna-Soar» - Text-only, reviewed version
Traduzione italiana

Selected pictures from the AAFC collection


Immagini dalla collezione AAFC




❦