Pannello base - Lato A
Dal punto di vista meccanico, l'assemblaggio è molto semplice: per il tavolino di base basta un riquadro di compensato o materiale simile, di circa 15cmx15cm di lato,
Il centro del tavolino sarà trovato all'incrocio delle diagonali - si trapanerà un foro da 6mm esattamente in tale punto.
L'albero dello stepper è fuori centro: infilando l'albero nel foro appena ricavato, sarà possibile tracciare il contorno dello stepper con una matita.
Poi, si taglierà un foro circolare, il più possibile aderente al bordo dello stepper, in modo tale che i due fori di fissaggio dello stepper siedano fermamente sul legno del tavolino, in modo da poterli utilizzare per fissare lo stepper al tavolino.
Servono piedini di gomma alti 10mm per consentire la luce necessaria (lo stepper sporgerà un po' al di sotto del tavolino).
Il piatto rotante sarà collegato allo stepper grazie a un Pololu Universal Aluminum Mounting Hub for 5mm Shaft.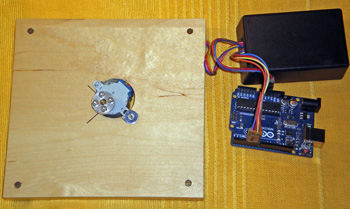 Base panel - Side A
From the mechanical point of view, the assembly is very simple: just a square of plywood or similar material, around 15cmx15cm size, is needed for the base table.
The center of the table will be found at the crossing of the diagonals - a 6mm hole will be drilled exactly at that point.
The stepper hub is off-center: by sticking the hub into the 6mm hole, the contour of the stepper can be drawn with a pencil.
Then, a round hole as tight as possible around the stepper contour will be cut by a fretsaw, so that the two fixing holes of the stepper sit firmly on the wood of the table, so that they can be used to fix the stepper to the table. 10mm high rubber pads are needed to allow the needed clearance (the stepper will stick a little under the table).
The rotating plate will be fixed to the stepper thanks to a Pololu Universal Aluminum Mounting Hub for 5mm Shaft.