Modalità video suggerita:1024x768 16 M colori
Suggested Video Mode: 1024x768 16 M Colors


Picus viridis - Photo: http://bellquel.bo.cnr.it/scuole/serpieri/Gli%20uccelli%20del%20Serpieri/Picus%20viridis.htm
Click su qualsiasi immagine per ascoltare il mio campione audio (134Kb). Dispongo di registrazioni molto pi¨ lunghe dello stesso canto.
Click on any image to listen to my audio sample (134Kb). I have available much longer recordings of the same song.
Descrizione canto:&nbsp/&nbspSong description:
Il canto che sentiremo Ŕ quello del Picchio Verde, ma almeno una parte delle percussioni sono probabilmente legate al Picchio Rosso Maggiore (dato che il Picchio Verde le utilizza meno di frequente). Il Picchio Verde si nutre soprattutto di formiche, che cattura con la lunghissima lingua.
English translation will be available shortly
La responsabilitÓ per la scorretta identificazione della specie dal canto Ŕ esclusivamente mia
Responsibility for incorrect species identification from the song is exclusively mine
Spettrogramma parziale del mio campione audio / Partial spectrogram of my audio sample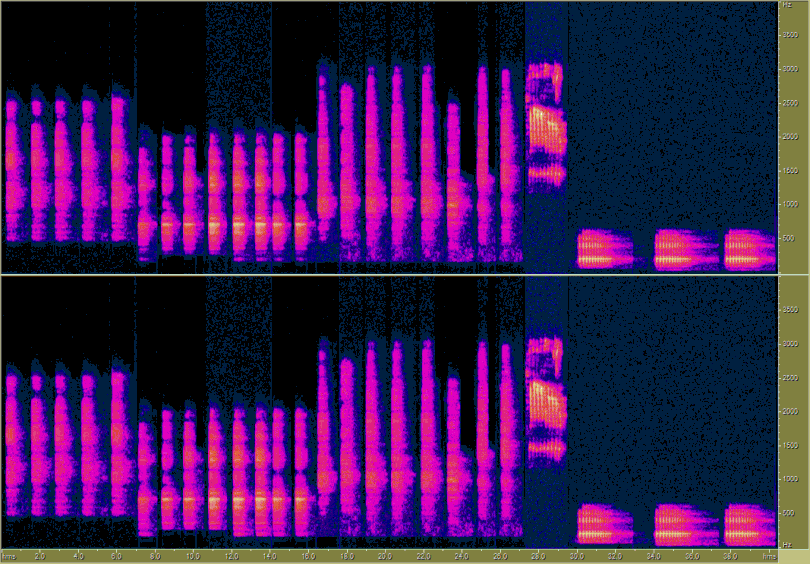 Oscillogramma parziale del mio campione audio / Partial oscillogram of my audio sample