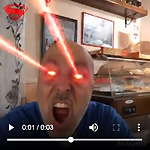 ---
Aeronautics
---
American Aircraft Fan Club 1945-1955 Collection - The Collection online (with links to the photos)
Archaeology
---
Arts & Crafts
---
Graphics - some graphic and pictorial creations
Meyers Konversations-Lexicon - selected illustrations
Pharmacy - Ciucalcio, print your own box (Italian text only)
Pharmacy - Somarene, print your own box (Italian text only)
Standards: The Brizio-Petovich Scale (Italian text only)
The Fly (A Fly Harasses Dr. K)
Bioacoustics
---
What is Bioacoustics? A 25 minutes interview with Cesare Brizio (Italian language, from the TV show "Detto tra noi" on TRC television)
Audiosphere 3.0 - my Prezi "Bioacoustics for the masses" slides (Italian captions)
Audiosphere 3.0 - Description of my Prezi "Bioacoustics for the masses" slides (Italian text only)
Bioacoustics BLOG (Italian text only)
Scientific papers in Bioacoustics
---
Cats: Paride
---
Tribuite to Paride, the greatest cat of all times (just a picture...)
Cesare Brizio
---
Curriculum Vitae (English and Italian versions)
Rev. Cesare Brizio - Pastafarianism
Sua Eccellenza il Balivo (Italian text only)
Cycling
---
Bicycle Assisted Decay: my first 50 years on two wheels
Electronics & Automation
---
Arduino breadboard prototypes and software sketches
Four-bit binary adder with Hex and bin display, breadboard prototype (a)
Breadboard prototypes, nine experiments for my nephew Lorenzo (Italian text only, with clear illustrations)
Foraminiferans
---
F3 - Foraminiferans From Fluminimaggiore
I foraminiferi bentonici della sezione «Falchi» (My Second Dissertation - Italian text)
The benthic foraminifera of the «Falchi» section (My Second Dissertation - English translation)
Geology/Paleontology
---
Geology (My Dissertation - Italian text only)
My collection of Dinosaur miniatures
My collection of Dinosaur miniatures - Just the thumbnails with no data
Hoplokyklodromìa
---
Hoplokyklodromìa (Official Website)
HPMC4 - Hand Push Model Car Chalk Circuits Championship
---
HPMC4 - Hand Push Model Car Chalk Circuits Championship - Rules (Italian text only)
Journalism
---
"Humine", my 2005 proposal for a technological alternative to mines (Italian text only)
"Hybris,Ate, Nemesis: l'albero dell'Urvögel" (Italian text only)
"Le Scritte di Bologna" - Delirio Urbano nei primi Anni Ottanta (Italian text only)
"Operation Broken Chestnut" (Italian text only)
"Operation Broken Chestnut" in a single PDF file
Sasquatch - italian translations of cryptozoological articles
NSJAP
---
NSJAP - Nationalsozialistischen Jamaikanische Arbeiterpartei
Memberships
---
Softball: Big Apple Softball Club
Gruppo Modenese Scienze Naturali - GMSN
World Biodiversity Association
Modeling
---
Music
---
Cesare Brizio + Johnny Spec & the Goggles on Soundcloud
Virtual Sound Rotogrid (Italian text only, with audio file)
Old Website
---
Home Page, classic branch & leaves version
Home Page, "kill marks" version
Photography
---
Lighting
Optical setups
Dark Background Photography
Macrophotography (Arthropoda)
Other photography pages
Poetry - Literary efforts
---
"Attese" (a short arachnological tale - Italian text only).
"Variations on a popular theme" (Italian and English description, the Variations are in Italian).
An English explanation To Guinness World Records about "Variations on a popular theme"
The Facebook Group "Variations on a popular theme" (typically, posts are in Italian)
La San Benedetto (Italian text only)

Programming (see also Electronics & Automation for Arduino sketches)
---
Biosequence alignment (code samples, Italian text explanations) (b)
Graphics programming with Processing.org (does not work on Chrome browser, NPAPI is not supported anymore)
Neural network (code sample, explanations in Italian) (b)
VDBIOCOL - my software (1999) for the management of zoological and paleontological collections (Italian User Manual) (b)
Seashells
---
Brizio, C. 2019 - Quick, massive (~1,000 items), manual digital photography of small (~ 1/10cm) specimens collection by a professional digital video camera and a photo camera zoom lens - The Festivus 51(2):150-163
All the Oliva shell in my collection: photographs and accompanying data
Checklist: my quest for all the Oliva species and subspecies in the world
Padding the small cells of the Olivarium
Seashells - small collections (Phasianellidae, Neritidae, Columbellidae)
(a) I was inspired by what I read at http://alez.maetech.it/docs/MAE_sommatore.pdf but the original link is currently broken. Here you may find the pdf file originally available (Italian text only)
(b) MS-Access was chosen because it's a self-contained DBMS and interpreter, well suited for didactical use.